Browse Items (11 total)
The American Theatre once stood on the corner of Jefferson Street and Kirk Avenue. Built in 1928, the theatre remained in operation until 1971; it was razed in 1973.
The original American Theatre building was located at 217 S. Jefferson Street. Built by the Young Men's Christian Association in 1902, it would later be sold to an investment group and converted into a theatre in 1913. This building was razed in…
Rorer Hall was built by Ferdinand Rorer in 1878 on the Northeast corner of Campbell Avenue and 3rd Street. Caption reads, "Roanoke's first thetre [sic] built by F. Rorer. Opened by John W. Sherman with his first play, "The Brothers". The building…
Looking West on Salem Avenue at the Academy of Music. Built in 1892, the Academy fell into disuse after World War II. It was razed in 1953.
The Academy of Music was located in the 400 block of West Salem Avenue. The Academy opened 7 October 1892. After World War II, it fell into disuse and was razed in 1953.
Interior of the Academy of Music. Built in 1892 on Salem Avenue near 5th Street, the Academy fell into disuse after World War II. It was demolished in 1953.
Children pack the American Theatre for the Saturday Morning Children's Show. Hayden Huddleston can be seen to the left center in front of the stage.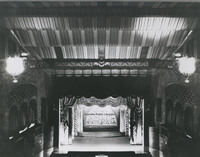 The grand interior of the American Theatre. The theatre opened on 26 March 1928. Once located at 115 S. Jefferson Street, the theatre closed in 1970 and was razed in January of 1973 to make way for the First National Exchange Bank.
Crowd gathered outside of the Grandin Theatre to see "Centennial Summer" starring Jeanne Crain and Cornel Wilde.
Rockledge Inn opened in the Spring of 1892 as a resort hotel. It featured sweeping verandas and views of the city, tennis and croquet courts, large stone fireplaces and a private coach that ran from the depot to the inn. Rockledge Inn would…
Jefferson Theatre, formerly located at 417 S. Jefferson Street.